FREE AS-U2.5G USB Adapter **offer has now ended***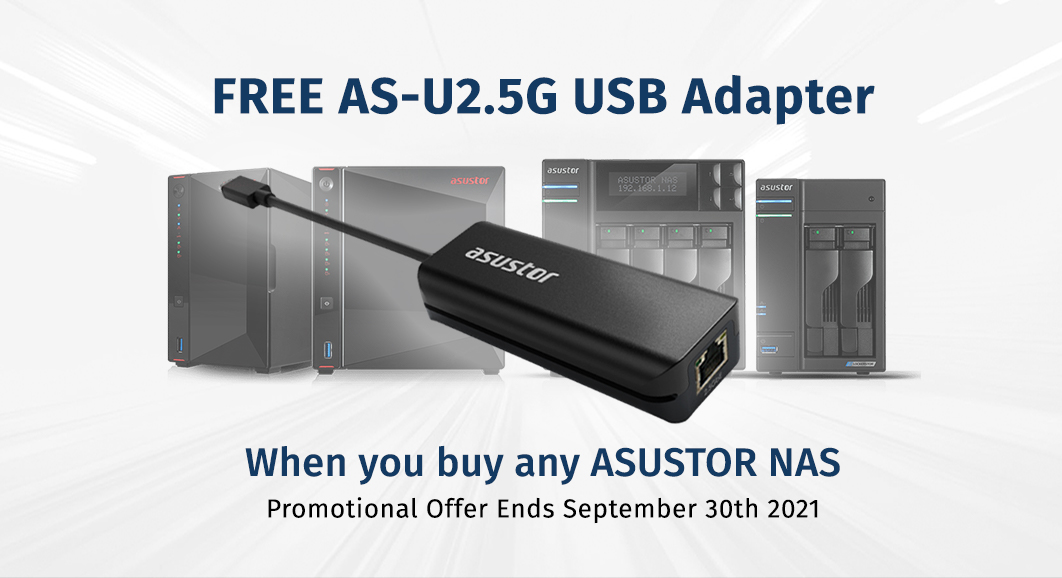 Buy Any ASUSTOR NAS and get a FREE AS-U2.5G USB Adapter to Upgrade Your Devices to 2.5-Gigabit Ethernet


Conveniently upgrade a NAS, laptop or desktop to 2.5-Gigabit Ethernet
Compatible with current network standards, including Gigabit and 100-Megabit connections.
Flexible compatibility. Compatible with ASUSTOR ADM 3.4 and above, Windows, macOS and Linux.
AS-U2.5G Features

Upgrade Your Devices to 2.5-Gigabit Ethernet
The AS-U2.5G can be easily plugged into a desktop or laptop to provide up to 2½ times the speed of Gigabit Ethernet. Combine the AS-U2.5G with a Nimbustor 2 and 4 to enable in-home storage at speeds indistinguishable from local hard drive storage. Supports 2.5-Gigabit speeds while also being backwards compatible with Gigabit and 100-Megabit networks, making the AS-U2.5G one of our most flexible network cards ever.




Make Your NAS Fast Again
The AS-U2.5G is able to upgrade your Gigabit-Enabled ASUSTOR NAS to 2.5-Gigabit speeds using the USB 3.2 Gen1 port. Supports ADM 3.4 and above.

Note:Supports both USB Type-C and USB Type-A* with the use of an adapter. *USB Type-A adapter not included.
Certain USB Type-C adapters exhibit an issue where plugging in a device a certain way will reduce USB speeds to 2.0 levels. Unplugging the device and flipping it should result in full speed USB operation and 2.5-Gigabit Ethernet.



Simple Installation
AS-U2.5G easily connects to Windows, Mac, Linux and ADM machines and is compatible with any network switch that supports 2.5-Gigabit connections. Cat 5e cables are fully supported and no additional drivers are required.


Discover the performance and innovation of ASUSTOR.
Get in touch with us today on 0121 783 4477 or email us via sales@intecmicros.co.uk
GET IN TOUCH
Our dedicated team are here to provide the very best pre and post sales experience possible. If you have any requirements that you would like to discuss further please call us, email us or use our contact form and one of our team will get back to you as soon as possible.