Having a nightmare with your home or business Wi-Fi?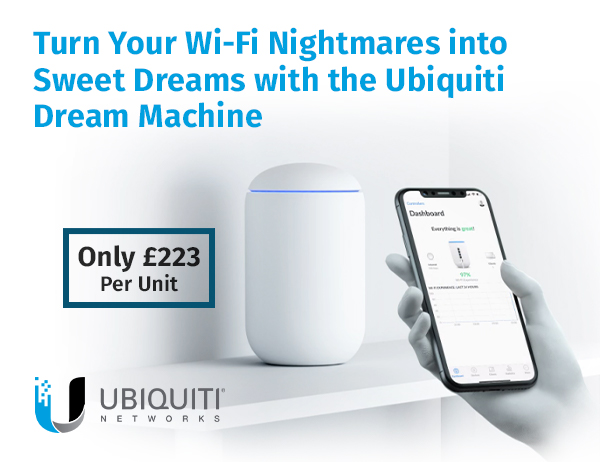 Simply Powerful Networking
The Ubiquiti Dream Machine is the easiest way to easiest way to introduce Ubiquiti Unifi into homes and businesses. It is one device combining a Wi-Fi Access Point, a 4-port switch AND security gateway!
It really is the easiest way to Unifi.
Build your home or office network with the UniFi® Dream Machine. Powered by a fast 1.7 GHz quad core processor, the UDM combines multiple functions into a single elegant device: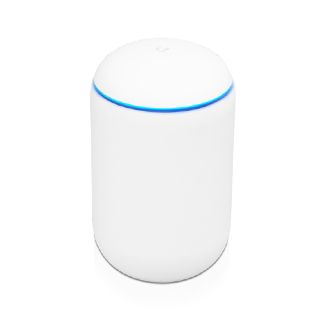 Part Code: UDM - £223 per unit
High Performance 802.11ac
4x4 Wave 2 Access Point (AP)
Managed 4-Port Gigabit Switch
Advanced Security Gateway
UniFi Network Controller
The UDM is the ideal first UniFi device. It's easy to use and still offers all the benefits of UniFi for homes and businesses. Easily expand the UDM by adding more UniFi Switches or APs while managing the network with the integrated controller. The UniFi Network app and UniFi cloud provide remote access to the controller from anywhere. The entire network can be kept updated and safe with automated software updates, which are completely free of charge.
Home or in the Enterprise? Why not do it both!
When you are at home you will need extremely high throughput for all of your connected devices, so guess what. You can! The UDM has 4x4 MIMO streams for video streaming; low latency gaming; and local video, photo, and file transfers. The UDM delivers the requisite high-performance Wi-Fi and includes integrated Ethernet ports for attaching local media.
The UDM is also ideal for enterprise use: it fits into high density environments as part of the overall enterprise network – small, remote corporate offices, retail stores, and hospitality locales. You can also expand Wi-Fi coverage by adding more APs via the built in switch.
An absolute bargain purchase to get the best of both worlds.
Check out the datasheet


For more information on Ubiquiti Dream Machine
please contact your account manager today.
GET IN TOUCH
Our dedicated team are here to provide the very best pre and post sales experience possible. If you have any requirements that you would like to discuss further please call us, email us or use our contact form and one of our team will get back to you as soon as possible.