Zyxel Switches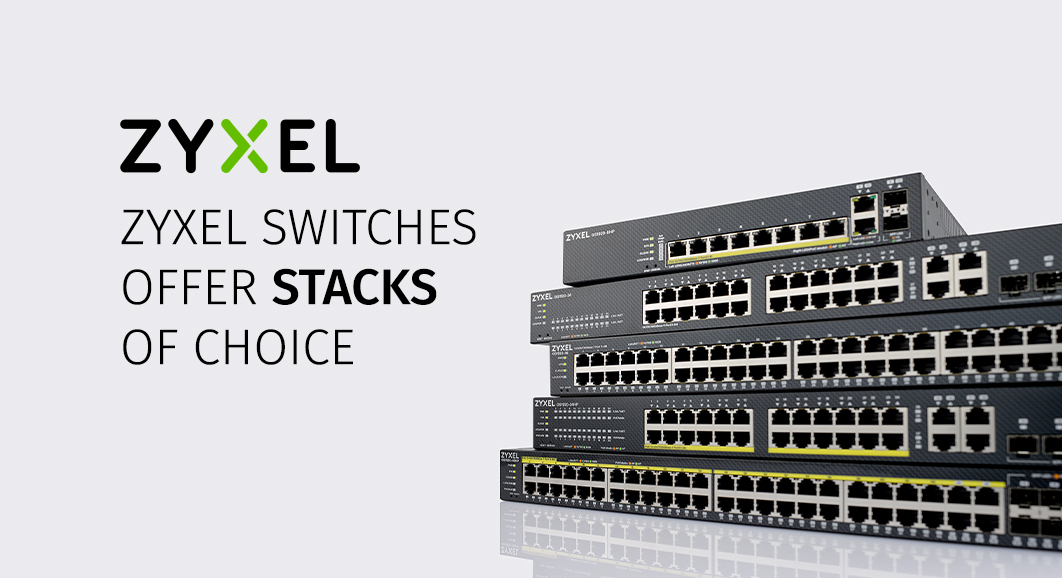 Being able to stack switches makes it easier to manage and maintain networks. Whether it's only two or three devices, or you want to build a stack that will support an extensive infrastructure, Zyxel has products to meet your needs.
Stacking switches is common practice in networks. By putting several switches into a single rack and connecting them, you can make them appear like one device with a single IP address. That makes it easier to configure and manage bigger networks as at centralises administration. It saves time, reduces cost, and makes identifying and solving any issues much simpler too.
For example, if you had a stack of eight switches and one of them crashed, it would not cause a bottleneck in the system. The other switches would go on working normally, and your IT team or systems integrator partner would be able to swap out the switch without shutting the others down. The previous configuration would be transferred from a 'master' switch.
View the Zyxel PoE Switching Solution Video


Wide-ranging capabilities

If you are going to stack switches, you need all of them to be from the same vendor, because they need to work together perfectly. Zyxel has three stackable product ranges – the XGS2210, XGS3700, and XS3800 series. They offer an excellent range of capabilities and compared to products of the same class that are available today, they are excellent value.
Zyxel stackable switches come with wide-ranging capabilities, including hot-swappable power supplies and fans, multi-gigabit support and high PoE budgets. They also offer advanced Layer 2 functionality with some additional Layer 3 capabilities (what we call "Layer 3 Lite").
With the XGS3700 you can stack up to eight switches, connecting them via fibre uplinks, and thus support as many as 384 ports. With the XS3800 you can stack four switches together.
The XGS2210, it is worth noting, also comes with Networked AV Mode, which is designed to support multi-casting of video signals. This functionality is already popular with hotels for the distribution of digital television channels and is increasingly being used by commercial customers, to ensure good video conferencing performance.
Download the Zyxel Switch Portfolio Datasheet


The choice is yours

If you want to control all your switches from one place, but don't see the need to build a physical stack, you can use Zyxel Nebula cloud management instead. With Nebula you can configure and manage switches right across the network from anywhere.
You can, in effect, create a virtual stack. This is ideal if you have IT staff who are working at home, and that is quite common-place now. It's also perfect for managed services providers who can use Nebula to monitor network devices remotely for their customers.
Whether you want to build a physical stack and manage all your switching in one place, or create a virtual stack of switches using Nebula, there is a Zyxel solution to suit your needs. The choice is yours.

For more information on Zyxel, visit our dedicated webpage, call us on 0121 783 4477 or email us at zyxel@intecmicros.co.uk
GET IN TOUCH
Our dedicated team are here to provide the very best pre and post sales experience possible. If you have any requirements that you would like to discuss further please call us, email us or use our contact form and one of our team will get back to you as soon as possible.