Zyxel Switch and a Free AP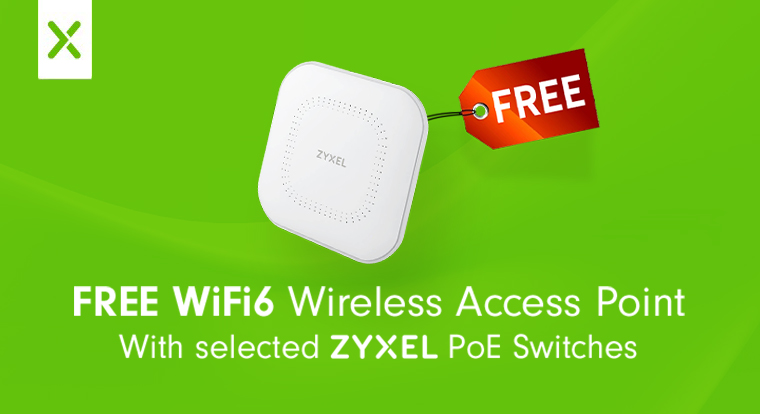 Zyxel offering free WiFi access point with popular switches to make managed services more appealing to SMBs
Zyxel Networks has launched a promotion designed to help smaller businesses make use of the managed services offered by the company's partners through its Nebula cloud platform.
Via Intec Micros. Zyxel are offering a free WiFi 6 access point to registered Zyxel partners with every purchase of their top-selling switches, all of which can be configured, monitored and controlled through Zyxel's Nebula cloud platform. This will give Zyxel partners the opportunity to offer a complete solution to SMBs, that combines the core devices needed for a small network, alongside remote monitoring and management services.
The idea is to persuade more small businesses to try using managed services, said Rachel Rothwell, Senior Regional Director, UK and Ireland, Zyxel. "Even if their network is relatively small, having core devices and traffic monitored and managed remotely is a really great option for SMBs – most of whom don't have their own in-house IT expertise. This promotion offer makes it even more appealing. Partners can provide small businesses with a fantastic deal on a really good switch and AP combination and – as all the devices can be managed using Nebula – also offer to take over the monitoring and management of the network for them."
Zyxel's Nebula cloud platform is a flexible and easy to use cloud management platform, which the company's MSP partners can use to configure, monitor and control customer networks remotely. Alerts are triggered when any potential fault is detected on the network, enabling the MSP to take preventative or remedial action. Issues that could cause problems can often be identified and dealt with before the customer knows about them.
Rothwell noted that any partner can take advantage of the offer to provide their customers with the combined package. All the products available can be managed stand-alone, as well as through Nebula, so customers can choose to run switches, access points and other Zyxel devices in the way that best suits them. "We believe in giving the customer choice. They can switch between the two modes at any time, so they could manage the network locally to begin with and switch to using Nebula later, if that's what works for them."
The offer is available on various models of three Zyxel switches:
GS1915 – a 24-port gigabit smart switch with 12 PoE ports and a power budget 130W. This fanless device can be rack mounted and comes with NebulaFlex, allowing users to switch between stand-alone or cloud-managed control
GS1350 – a 26-port managed PoE switch that is idea of IP-based surveillance applications. This comes with a 375W PoE budget and one-year Nebula Pro pack license
GS1920 – a 28-port smart managed PoE switch with 24 gigabit copper PoE ports and four gigabit combo (RJ-45/SFP) uplink ports. This also has a 375W PoE budget and comes with NebulaFlex.
When partners purchase any of these devices, they will also receive a Zyxel NWA90AX WiFi 6 Access Point. This also comes bundled with NebulaFlex and can thus be managed alongside the switches through the Nebula cloud platform. The offer is available through Intec Micros immediately.

About Zyxel
Zyxel Networks is a leading developer of wired and wireless networking, network security products, and cloud network management solutions. Our products and services provide business and consumers with a simplified and unified networking experience and robust protection against evolving cyberthreats. They are designed to be easy to connect and to manage, making use of the latest technology innovations and intelligence to deliver flexible, effective, secure and scalable solutions.
With headquarters in Taiwan, Zyxel has more than 30 years of experience, a presence in more than 150 markets, and is trusted by over one million businesses.
GET IN TOUCH
Our dedicated team are here to provide the very best pre and post sales experience possible. If you have any requirements that you would like to discuss further please call us, email us or use our contact form and one of our team will get back to you as soon as possible.