Your Chance to Win £250 Virgin Experience Voucher with ZYXE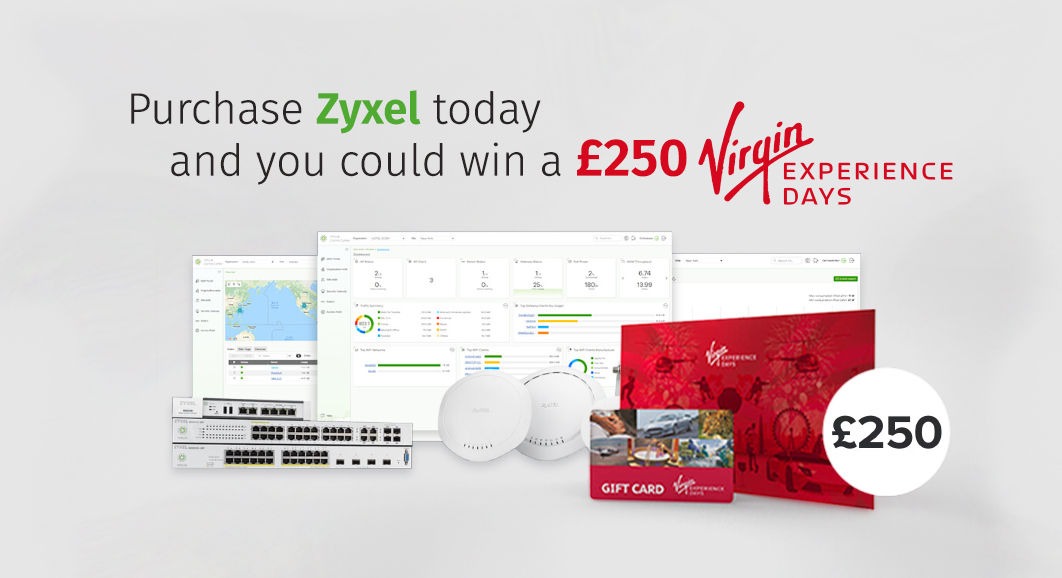 During the month of March, place any order for a Zyxel Networks product and you will be entered into our prize draw for the chance to win a £250 Virgin Experience Voucher.
Meet the Zyxel Product Family


Zyxel switch solutions offer premium equipments with high reliability and performance by profound knowledge in telco-class equipments. The Zyxel switch solutions have mission-oriented design and a complete product portfolio to offer the best-fit solutions for customers. The solutions meet not only SB and SMB needs, but also requirements of different vertical markets.

Wireless LAN has become a favourable choice and proved to be a stable solution when SB/SMBs decide to deploy mobile connectivity. Zyxel sees stability and innovative structure as the major value indicator of its offerings and thus provides businesses with scalable and feature-rich Wireless LAN solutions.

Get protection from malware and unauthorized application for your business. Keep your business running smoothly without downtime by protecting your network from outside threats. Deliver collaborative approach to complex security threats with unified management.

Zyxel management and reporting provide full visibility and control across the network. Centrally managed from the cloud with its comprehensive portfolio, Zyxel simplifies your business infrastructure and offers a broad range of solutions to improve the efficiency.

Zyxel Networks are building the networks of tomorrow, helping unlock the world's potential and meeting the needs of the modern workplace; powering people at work, life and play. They stand side-by-side with their customers and partners to share new approaches to networking that will unleash their abilities.

Loyal friend, powerful ally, reliable resource - Zyxel, Your Networking Ally.
Zyxel Communications delivers technological innovations and has connected the world to the internet for more than 30 years. Whether establishing access through fixed or mobile broadband solutions, Zyxel offer a comprehensive and flexible portfolio of products that are right for worldwide leading service providers and their subscribers.
Zyxel is a global force in the telecommunications market with an unrivalled international presence that includes:
Start purchasing Zyxel from Intec today. Get in touch by calling us on 0121 783 4477 or emailing zyxel@intecmicros.co.uk
GET IN TOUCH
Our dedicated team are here to provide the very best pre and post sales experience possible. If you have any requirements that you would like to discuss further please call us, email us or use our contact form and one of our team will get back to you as soon as possible.