iQuila Software Defined Networks
Connect LAN to LAN using the world's first AI-empowered SD-LAN Cloud Service.
The Next Generation of Connectivity
The world's first AI Embedded SD-LAN in the Cloud
iQuila is a cutting-edge, software-based alternative, to traditional complex VPNs which take hours or days to configure. iQuila does not require any expensive hardware and your IT department can build and deploy secure virtual networks in minutes. Save time, reduce costs and deliver a better solution!
Don't become an office network add-on using Legacy VPN and SD-WAN solutions, use iQuila Cloud and bring the office network direct to your client's home office.
iQuila Cloud - What is it and how does it work?
Reasons to use iQuila SD-LAN Cloud service
Reduce support costs of legacy VPN technology by up to 95%
Simple to deploy, takes only minutes not hours
Subscription service, no contract no risk
Fully secure using the latest encryption
Secure Internet Browsing with MitM Prevention
Pre Windows Active Directory login for endpoint security
Integrates into AWS, Azure, Google Cloud Platform and many more
Full Layer 2 Support, pass any VLAN from office to office
Increase revenue from existing customer base and reduce support costs
Join thousands of others already using the iQuila Cloud
Connection speed of up to 1Gbps using iQuila protocol (VEN)
The iQuila Story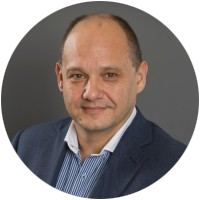 David Sweet - iQuila Ltd CEO/CTO
Although a start-up organization, the concept of iQuila was born from years of frustration within the Managed Services and IT support sector.
With over 25 years experience in IT, the directors of iQuila ran a successful MSP and recognized connectivity issues as a recurring issue that accounted for a significant portion of support tickets and engineering resource allocation. After over 2 years of development, iQuila was launched as a premium connectivity solution to address these points.
David Sweet, CEO, and CTO of iQuila VEN says:
"iQuila was designed to deliver enhanced levels of network connectivity, that is easy to deploy and offers complete security to typically vulnerable endpoints. However, what started out initially as an alternative to VPN and SD-WAN, has developed into what we consider to be the next generation in connectivity. With iQuila any type of device with an IP address can be secured and controlled as if it was plugged into a head office network, regardless of where it is, anywhere in the world. All that is required is an internet connection."
Cloud VS Enterprise
iQuila Cloud is an "always on" secure overlay Layer 2 network that leverages AI, network virtualization, Cloud, and SDN technologies. iQuila Cloud also offers you the ability to link entire networks using Layer 2 via the Cloud, negating the need for VPN and expensive, complicated and restrictive MPLS lines. With simple monthly pay as you go billing. iQuila Enterprise builds on the Cloud solution, additionally offering you Dual layer SSL Security, also run your own Enterprise solution without any cloud connectivity required, and many other features.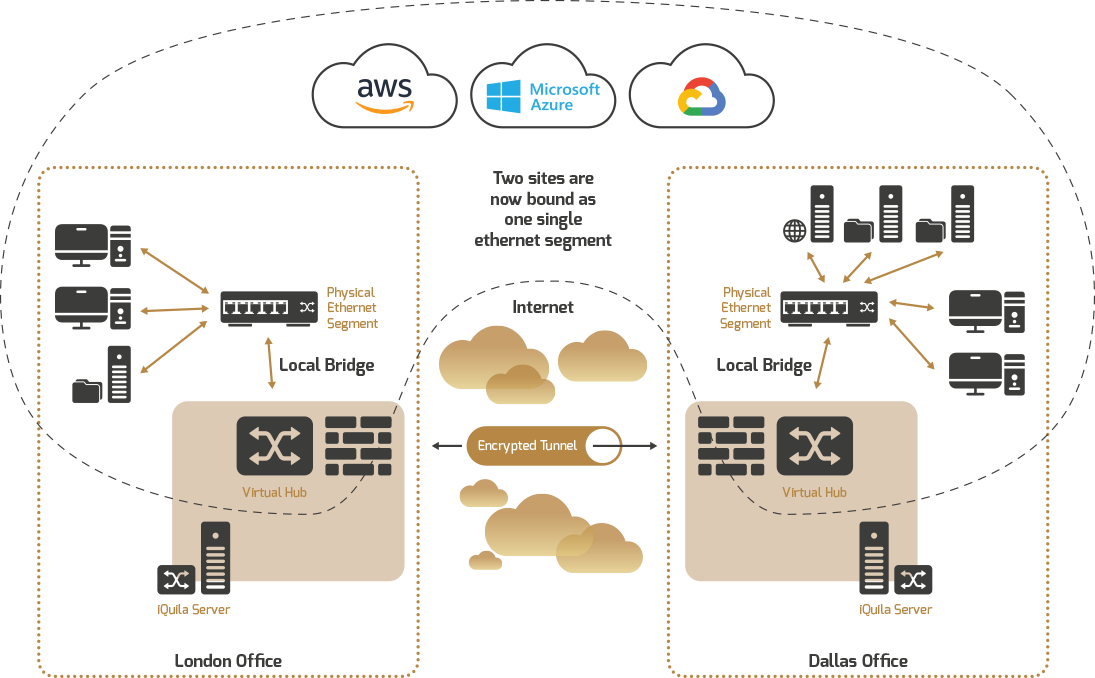 Download our Factsheet
The iQuila Solution
iQuila enables you to create secure, optimised cloud networks in minutes, add people and devices instantly, and deploy network services on demand. iQuila is a provider of cloud-based networking services that deliver an entirely new way to build and manage networks, adding numerous high-availability and resilient features not available with cloud deployments and traditional networks.
iQuila adds innovative, cost-effective, yet easy-to-manage security features to each customer's existing computing infrastructure. We work with security solutions, such as standard access controls and permissions, that companies already have in place.
It is important to note that the iQuila Cloud Network Engine never stores packets. Data transits through our platform, and resources are dynamically allocated prior to (or during) the transaction for optimal performance and resiliency. Secure Sockets Layer (SSL) is used to secure the traffic, and no passwords or IDs are delivered as clear text. Moreover, customer networks are fully isolated from one another.
IT departments need to act quickly to allow users or workgroups access to servers or enable ad hoc remote teams to collaborate on issues but, IT workloads often prevent effective reaction time.
The iQuila Cloud Network Engine offers rapid deployment to enable private networks where IT resources are at a premium. It offers unique resilience, high availability, and redundancy features. iQuila can reduce costs while enabling companies to see lasting benefits such as increased uptime, reliability, flexibility, and effective collaboration.
iQuila augments company security with the latest technology that is non-disruptive, works with security measures already in place, and best of all is easy to manage. With iQuila, customers get the best of both worlds with the cost-savings of cloud services with the best security possible.
Intec Micros has been appointed to supply their full range of solutions to Value Added Resellers (VARs), Independent Retailers, E-tailers and Service Providers.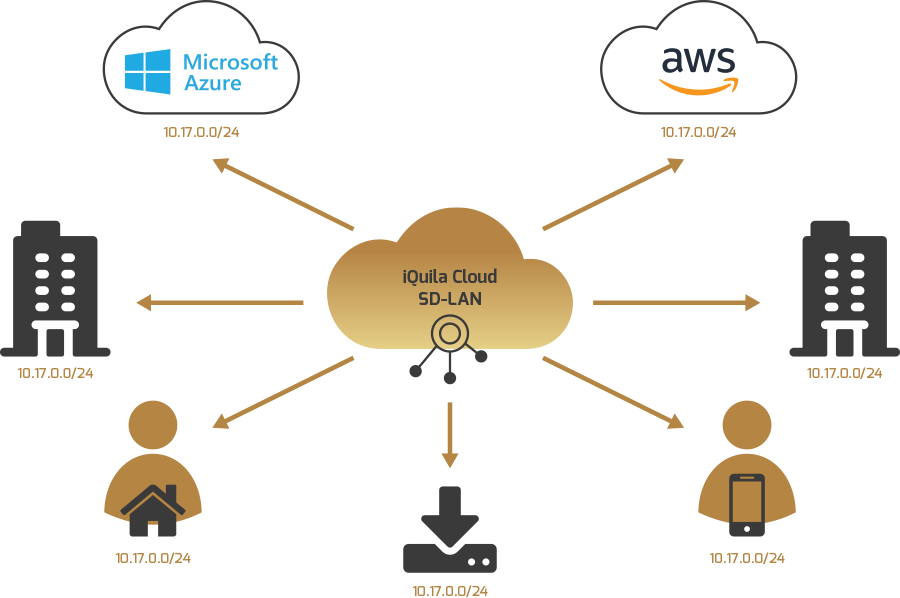 Download our Factsheet
Case Studies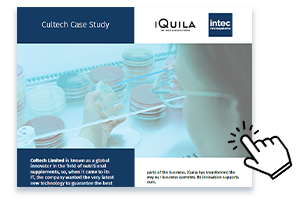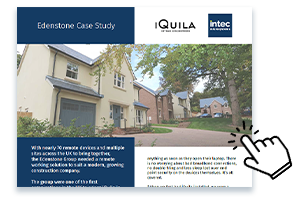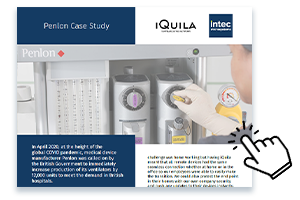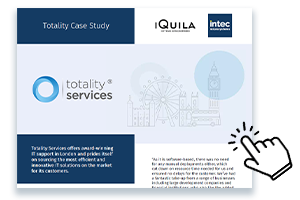 Want to understand more about iQuila?
GET IN TOUCH
Our dedicated team are here to provide the very best pre and post sales experience possible. If you have any requirements that you would like to discuss further please call us, email us or use our contact form and one of our team will get back to you as soon as possible.