Asustor - What is NAS?
An ASUSTOR NAS or network attached storage is a computer appliance built from the ground up for storing and serving files.
What is a NAS?
In the wake of technological advancements, digital information and data are being created in exponential amounts. In the past people have relied on their computers to manage their data, but today, smartphones and tablets can handle most of the tasks a computer can.
The widespread adoption of technologies such as Wi-Fi and Bluetooth have shifted usage habits towards the convenience of mobile devices, with even digital cameras being able to connect to the Internet. The expansion of mobile technology has undoubtedly contributed to the exponential growth in digital data, increasing the need for digital storage solutions. Many people now have multiple mobile devices and computers, and the need to backup and manage all their data across all their devices is quickly becoming a hot topic. A practical and cost-effective solution to these new challenges is Network Attached Storage (NAS).

An ASUSTOR NAS or network attached storage is a computer appliance built from the ground up for storing and serving files. It attaches directly to a network, allowing those on the network to access and share files from a central location.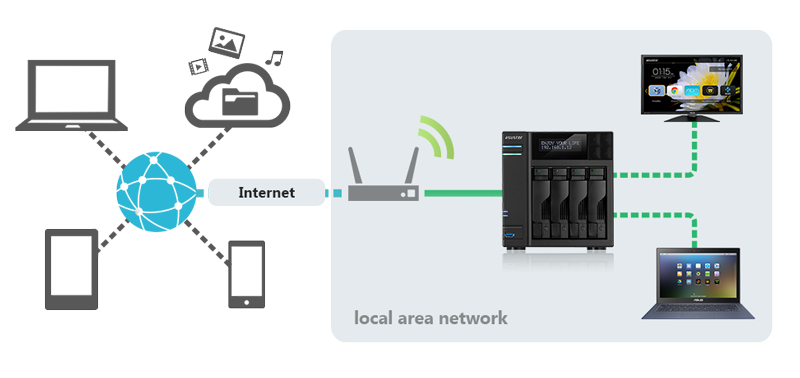 NAS + HDD = personal cloud storage space
A NAS is similar to a small computer. It consists of a motherboard, CPU, RAM, disk bays for hard disks and a dedicated operating system. ASUSTOR NAS devices are also designed with a variety of I/O connection ports for increased application flexibility.
With the advent of cloud computing, a NAS can be thought of as a type of private cloud storage service. The capacity of the cloud storage space can differ according to personal requirements. Currently, the size of the largest capacity hard disks available on the market is 16TB. Once you have a NAS, you can centralize all the data you have scattered across all your devices and can access it at any time. Having a personal cloud allows you to protect your privacy. Your NAS can be connected to your local network for private use or to the Internet. Even when open to the Internet, ASUSTOR NAS provides security features such as ADM Defender, HTTPS connections, access permissions configuration, encrypted folders, and antivirus protection that keep your data safe and secure.

GET IN TOUCH
Our dedicated team are here to provide the very best pre and post sales experience possible. If you have any requirements that you would like to discuss further please call us, email us or use our contact form and one of our team will get back to you as soon as possible.