With ASUS ZenCare we guarantee the quality of our computers, at no extra cost.
Computers are at the heart of your business. But what would happen if they stop working?
ASUS Zencare guarantees the quality of your ASUS devices, so if you experience any technical defects in the first year of ownership, ASUS will not only repair the devices, but also give you your money back.
Simply register your device with ZENCARE after your purchase and feel safe knowing you are fully covered at no extra cost.
ASUS pride themsevles on the durability of their computers, whether a desktop, all in one or one of their rigorously tested, military grade certified laptop.
So not matter the size of your business, you know you can trust and rely and ASUS quality to keep your business moving.
Simply register your eligible laptop device with ZenCare after purchase and if you experience any technical defects within the first year of ownership, we'll repair it for free and refund you up to £1000 per device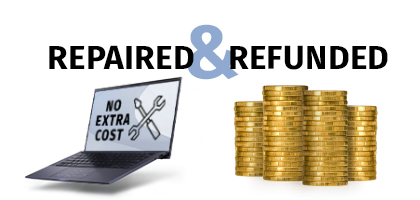 How do you get ASUS ZenCare protection?
1. Buy an eligible product
Buy a product that's eligible for ASUS ZenCare protection during the promotion period. Please refer to the list of eligible products and promotion periods in the terms and conditions.
2. Register your eligible product
Go to the "Registration" page and register your eligible product within 15 days from your purchase date.
Create an ASUS ZenCare account or log in if you're already a member.
Fill in the form and upload the following documents:
The proof of purchase (invoice), with the price, product reference and purchase date circled.
A picture of the product's tag showing the serial number (S/N), which must be readable.
Confirm your registration. You'll receive an email with your registration number.
3. How to use ASUS ZenCare protection
In case of a technical problem within 15 to 365 days from your purchase date, please follow the instructions below to use your ASUS ZenCare protection:
Contact the ASUS Technical Centre to have your product repaired by an affiliated repair centre. You'll find contact details on the warranty card provided with your product, or on the ASUS website.
Within 15 days after your repaired product is sent back to you, please log into your account to claim your refund.
In order to complete your request, please provide us with the following information:
Return Merchandise Authorisation number (RMA).
Intervention report provided by ASUS aftersales service.
Bank account details.
Confirm your request. You'll receive an email with your tracking number.
If your request meets the terms and conditions of the ASUS ZenCare programme, you'll receive a refund of the purchase price of your product up to £1000 into your bank account within 30 days from the approval of your request.
GET IN TOUCH
Our dedicated team are here to provide the very best pre and post sales experience possible. If you have any requirements that you would like to discuss further please call us, email us or use our contact form and one of our team will get back to you as soon as possible.