Novo - Refurbished Laptops from Intec Micros
Introducing Novo from Intec Micros, a Latin phrase meaning to make new, renew, refresh, or revive. Novo is more than just a name, it is our seal of approval and our certified promise to you that every laptop we supply via the Novo brand, has completed a rigorous refurbishment process including full testing resulting in equipment that meets the very highest quality standards. You can trust that your Novo device will be "as close to new" as we can possibly get, all with significant cost savings when compared to buying brand new.
When buying your next laptop, you have many decisions to make; what brand, what operating system, screen size and other various technical specifications to consider. Combine all of this with finding the best value for money, we ask the question if brand new is always the best choice?
Here are a few reasons why we would like you to consider choosing Novo from Intec Micros:
Years of Reliable Service
Contrary to what some may say, refurbished does not mean that it will not last. The laptops we supply are premium models, discounted to a lower price because they are refurbished. We choose to supply ranges of refurbished laptops made of high-quality components and the highest standards of durability; features you will not find in lower grade models.
12 Months Warranty
All Novo refurbished laptops are high-end business models, originally built with the best and highest quality components. A refurbished Novo laptop purchased from Intec Micros has a full 12 months return to base warranty (6 months on battery), where we will either repair or replace your device if a fault were to occur. You can also upgrade to a 3 year warranty to give you peace of mind for longer.
Save the Planet
Efforts to protect the planet are at the forefront of the political agenda, ensuring pollution in the environment is as low as it can be. Making IT equipment (including parts such as a processors, screen or batteries) is not environmentally friendly BUT, by choosing a Novo refurbished laptop means we put back used products into circulation, meaning less pressure on the manufacturing on new equipment. A win for the environment!
Save Money
One of the most common and compelling reasons for purchasing a Novo refurbished laptop is the price. Most of the time it is the most convincing argument for doing so and we totally understand why. The price of refurbished equipment overall is more often than not significantly lower than new devices. By choosing a Novo refurbished laptop from Intec Micros, you could save hundreds of pounds compared to a new one. In summary, choosing a Novo refurbished laptop from Intec Micros means you will have a reliable device that comes with a 12-month warranty that is guaranteeing a repair or replacement. A device that is priced at a significant discount to that of purchasing a brand-new unit, meaning you are saving money whilst helping us save our planet by putting devices back into circulation. A win for everyone.
Our standards are high, and yours should be too.
Grade A Standard
All equipment is re-manufactured to Grade A standard using the services below:
Keyboard reprinted using specialist printing machines – Language can bere-printed to any language so UK Keyboard to Nordic or German to UK
Laptop lid cover, palm rest and touchpad heat wrapped in vinyl covering
Batteries that hold <85% of original charge are replaced with new batteries
Defective/cracked components such as Bezels, RAM, battery covers, USB ports etc are replaced with new parts
Screens with any pressure marks repaired and any screens that have scratches are replaced
Machines are relicensed with official Microsoft Windows 10 Pro licenses
Novo Return to base warranty
What is covered?
All of our Novo refurbished laptops have 1 year return to base warranty, where we offer an advanced replacement within the first 30 days of your original purchase. Batteries are also covered, but only with 6 months return to base warranty. After 30 days from your original purchase, we operate a Service Level Agreement (SLA) of 5 working days of goods being returned to us, upon which we will repair, replace, or credit the faulty device. We cover manufacturing defects or component failures within our agreed warranty period as well as any dead-on-arrival (DOA) laptops, batteries, or components within the supplied system .
Any damage caused by the customer or other induced impairments are NOT covered by the warranty. We will not authorise the return and repair on any system which has been modified from its originally purchased condition, specification, or associated component parts. We will replace the unit with a like-for-like refurbished machine, or if like-for like unavailable, we will supply the closest higher spec refurbished product to the original, at our discretion based on product availability.
Our warranty support is available from 8.30am to 5.30pm Monday to Friday (excluding UK Bank Holidays).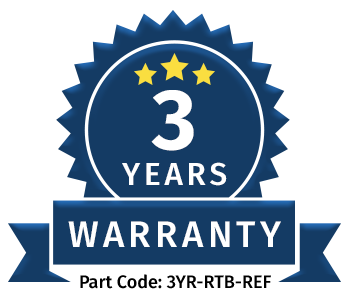 Extend Your Warranty to get 3 Years Peace of Mind
All Novo refurbished laptops come with 1-year return to base warranty, backed by our commitment to their quality, reliability, and durability. Get peace of mind for longer by purchasing our 3-year return to base extended warranty, within 30 days of your original Novo refurbished laptop order.
You get all the benefits of our standard 1 year return to base warranty, just for longer!
How do you claim in the event of a fault?
We have tried to ensure the warranty claim process is simple and straightforward. Simply contact the supplier who provided your Novo refurbished laptop, and supply the part code, manufacturer serial number, description of the fault, and your original proof of purchase. Your reseller will then ensure a warranty claim is raised with the Novo team and arrangements will be made for the warranty claim process be invoked.
GET IN TOUCH
Our dedicated team are here to provide the very best pre and post sales experience possible. If you have any requirements that you would like to discuss further please call us, email us or use our contact form and one of our team will get back to you as soon as possible.