UFiber
Plug and Play Fibre Networking
World's First True Plug and Play Fiber Network Technology
UFiber GPON Allows You to Build Passive Optical Network Deployments with Minimal Effort and Cost.
For the Times When you Can't go Wireless
With the Ubiquiti UFiber range of products, configuring a fiber network just became as easy as setting up a smartphone. Say goodbye to command lines, manuals, and paid support licenses. UFiber offers internet and telecom service providers a cost-effective fiber optic delivery system for Triple Play Services (data, voice, IPTV/VoD) with speeds of up to 2.488 Gbps downstream and 1.244 Gbps upstream. The U Fiber network is intelligently managed using the included UNMS (Ubiquiti Network Management System) controller. U Fiber devices consist of the U Fiber OLT (deployed at the provider premises) and the U Fiber Nano G or loco clients, which function as ONU CPEs (Customer Premises Equipment).
Ubiquiti Network Management System
UNMS™ is a comprehensive controller for centralized management of all registered OLTs and their ONU clients. Ubiquiti distinguishes itself with a library of powerful and intuitive management software that is included at no additional cost. UNMS is the latest addition to the library. UNMS is a comprehensive management controller, featuring a graphical UI that is easy to learn and navigate. UNMS manages all of the registered UFiber OLTs and all of their ONU clients. Features • Intuitive, Graphical Web UI • Quick Configuration and Deployment of UFiber Devices • Centralized Management of Multiple GPON Networks/Sites • Visual Reports for Efficient Monitoring and Troubleshooting • Linux-based Software Installation • Bundled Software – No Licensing or Support Fees
Optical Line Terminals (OLT)
Client Premises Equipment (CPE)
Accessories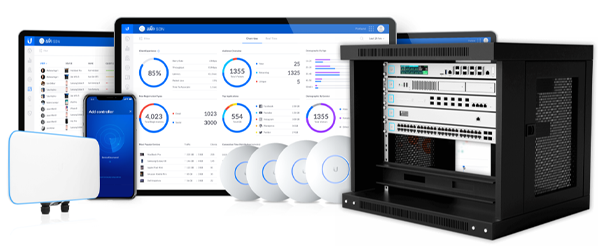 VIsit the Ubiquiti Website -
GET IN TOUCH
Our dedicated team are here to provide the very best pre and post sales experience possible. If you have any requirements that you would like to discuss further please call us, email us or use our contact form and one of our team will get back to you as soon as possible.