UniFi Protect
Security Cameras
Simply scalable video security. Scalable, plug-and-play network camera system. View your live video and recordings anywhere with free cloud access and mobile applications.
Simply Scalable Video Security
The Unifi Protect line up offers high scalability but allowing you to add 50 cameras to your system to cover every single angle. Reach elite level performance by powerful optices, high power night vision and sharp, Full HD video streaming. With no monthly fees, you get free cloud access for streaming and viewing your recordings. Take control of your own data by video being stored on your own secure hardware, not a cloud server.
UniFi's Focus on Delivering Value and Commitment to User Experience Design
Perhaps the biggest technology story of this decade has been the emergence of the cloud. Applications based in the cloud have lead to breakthroughs in user experience, powering Industries from media streaming to social networks. In these applications, the cloud has enabled content distribution and user interaction with great performance on a massive scale across an entire connected world. But while cloud-centric product design originated to optimize user experience, other Industries embracing the cloud have done so for entirely different and less than admirable reasons. Specifically, the I.T. hardware Industry, leveraging much of the pervasive cloud marketing tail winds from other Industries, are aggressively pushing their own cloud based products to their customers. From a business model perspective, this makes perfect sense — why pursue a one time sale when you can sell hardware and charge people again and again in perpetuity to use the very same hardware? Perhaps even greater pressure derives from company valuation concerns. In today's financial world, an exponentially greater valuation is attributed to a business that can successfully convince investors they have "subscribers" (re-occurring revenue) rather than plain old "customers."
Whereas many applications utilizing cloud-centric designs do so with the primary intent of perfecting a user experience, the I.T. hardware Industry cloud initiatives in stark contrast aim to increase their company valuations, lock in their customer-bases, and essentially rip people off.
The idea of a cloud based hardware controller certainly seems at least a bit ridiculous when considered with an unbiased mind. Why would anyone tolerate the exorbitant licensing fees and security concerns associated with purchased hardware that unnecessarily tethers to a 3rd party server? As it turns out, armies of sales people along with their collusions of profiting proprietors can be awfully convincing when pitching solutions that advance their own interests.
To be fair, there is one significant user-experience benefit of cloud based I.T. hardware systems and that is remote connectivity — the ability to monitor and configure multiple deployments from anywhere. But could this be achieved without passing on significant costs and security concerns to the customer?
UniFi Hybrid Cloud Approach Featuring Cloud Key
Although marketed as a "cloud" key, this device simply brings the user-experience benefit of remote connectivity without requiring networking infrastructure hardware to be connected to the cloud. And it appears like the idea has been well received with UniFi approaching 1 million cloud key shipments in a relatively short period of time. The idea is simple — install a cloud key in your network and any admin can go to unifi.ui.com to access their networks from anywhere while still keeping their hardware free of licensing subscriptions.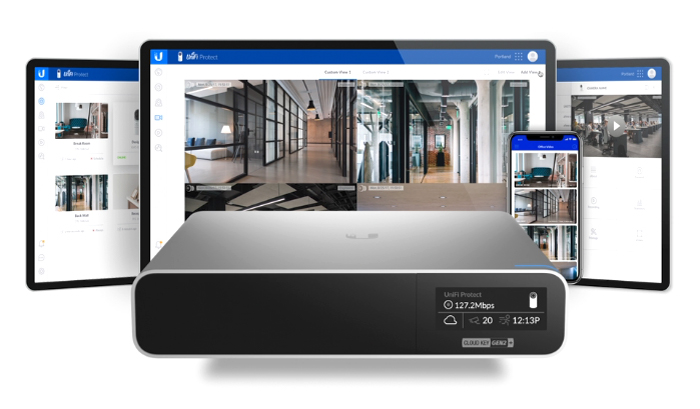 The second generation cloud key has improved upon this concept with significantly better hardware performance, an intuitive LCD, bluetooth for mobile app connectivity, and support for HDD storage (1TB comes standard with the Plus version, upgradable to 5TB). The device is powerful enough to host additional applications with great scalability — including an all new video security system we call UniFi Protect. And just as our hybrid cloud approach was a breakthrough for networking, we believe the same approach has compelling potential in the video security Industry where Internet bandwidth utilization, privacy, and subscription fees all become drawbacks of cloud based network video recorders.
UniFi Protect — Hits on 5 Key User Experience Points
UniFi Protect was designed from the ground up with a focus on user-experience. We wanted to build something that could operate at scale within a small hardware footprint, providing a low-cost initial investment while offering the remote connectivity convenience of cloud based systems. I want to talk more about 5 key points of the design:
1. Usability:
The core transcoding framework has been designed to provide rapid searching of any recorded video as shown in the video below. And because we don't require the camera HW to connect to the cloud, we can provide much faster in-network latency, crucial for future applications including 2-way audio.
2. Scalability:
The new cloud key can manage 20+ cameras while simultaneously providing UniFi network management and new hardware later this year will significantly increase camera scalability further. Installation is plug and play with Protect automatically detecting and adding new cameras as they come online. In addition to the mobile apps, we have a web UI that is suitable for monitoring hi-density camera installs.
3. No Subscription Fees:
While a single monthly fee might be reasonable for the convenience of a single cloud camera, the proposition for a multi-camera network and multiple subscription fees quickly becomes unreasonable. With UniFi Protect, there are no subscription fees to worry about whatsoever.
4. No Burden on your Internet bandwidth:
As resolutions (and bit rates) increase so do their corresponding utilization of Internet upload bandwidth. With multiple cloud cameras constantly uploading to the Internet, this will greatly reduce the effective bandwidth for users on the network. With UniFi Protect, the camera stream terminates at the Cloud Key and thus saves full Internet upload bandwidth for the clients of the network.
5. Completely Private:
Perhaps the general public isn't fully aware of the magnitude of this privacy invasion. Cloud cameras forward video to 3rd party servers which means your life is really not private anymore and there is no guarantee that any recordings (including confidential events) will not be seen by others.
With UniFi Protect, recorded video is kept private; away from 3rd party servers.
G3 Flex - The Hardware, Best in-class
The new G3-Flex is our most versatile and best price/performance camera to date. It can support practically any installation from resting on a table, mounting on a wall, ceiling, pole, or conduit. And it looks even better installed with a recessed mount.
The performance is also best in-class as compared to other brands below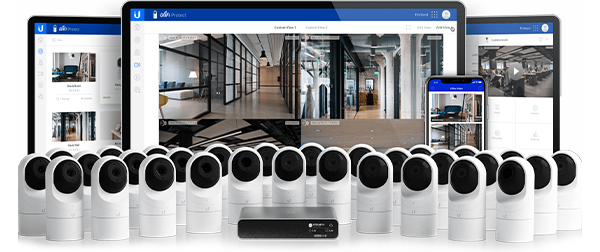 GET IN TOUCH
Our dedicated team are here to provide the very best pre and post sales experience possible. If you have any requirements that you would like to discuss further please call us, email us or use our contact form and one of our team will get back to you as soon as possible.